October 24., 2017.
dunaPart4 - Newsletter No.6
Dear Friends and Colleagues,
We only have a little bit more than a month to go to dunaPart4 – Platform of Hungarian Contemporary Performing Arts. As a reminder the platform will take place in Budapest between 29 November and 2 December.
While we are being very busy with the preparations, please register to the event here - if you haven't done so yet. Following the registration you can choose your programme, select the shows you would like to see – we have the theatre and dance programmes running parallel – the full schedule is found here. You will find detailed descriptions and video links of the presented shows on the website.
We will be starting the dance programme at 5pm on 29 November with the enthrallingly organic and mechanic duet The Station. The choreographer, Ferenc Fehér has been a regular guest performer and teacher of a wide range of stages and festivals all over the world. His choreography is characterised as a unique and expressive combination of freestyle dance, physical dance and animal movements.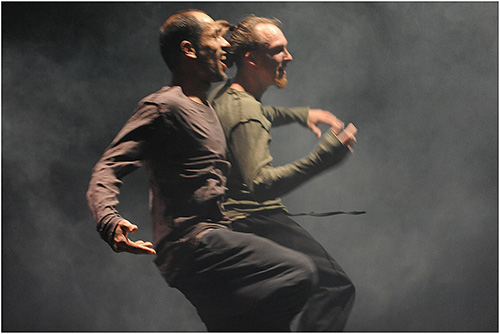 Ferenc Fehér: The Station, photo: György Jókuti
The second show of the dance programme is a double bill by Forte Company – String Quartet No 5. and Concerto by Béla Bartók. The choreography or physical theatre pieces by Csaba Horváth aim to create a new, homogenous language with the help of bodies, voices, dance, music and text.
Imitation of Life by Proton Theatre will open the theatre programme at 7pm on 29 November. Since its premiere in 2016 the piece has been intensively touring. After its presentation in Oberhausen (Germany), Süddeutsche Zeitung wrote 'Kornél Mundruczó, renowned Hungarian director of stage and film, surprises us with his performance entitled Imitation of life. Instead of the accustomed violence and provocation onstage, he offers quiet and intimate glimpses into the fates of individuals.'
At 9pm on 29 November we will have our opening party where everyone is welcome to listen to some reasonably short speeches, to a welcome drink, some food and just to say hello.
We are continuously sharing information about artists and productions presented at dunaPart4, about partner venues and other accompanying event on our facebook page. Please follow us there and spread the news and our programme if you like.
We hope to see you in Budapest.
Best wishes,
the Organizers
To get our regular newsletter, please, subscribe here!