November 15., 2017.
dunaPart4 - Newsletter No.7
Dear Friends and Colleagues,
It is just a little more than 2 weeks to go until we start dunaPart4 – Platform of Hungarian Contemporary Performing Arts.
For the detailed programme please visit our website. If you have already registered we will be sending you all the practical information early next week.
We will be closing the registration on the 20 November, so please make sure that you register to the event and all programmes you would like to follow in time.
Important: as the time of dunaPart4 is in the peak touristic season we encourage you to book your accommodation as fast as you can. Shuttle buses will leave from Trafó to the shows in the mornings, so we advise you finding a place to stay around Trafó.
We already have 130 international guests registered to the event, so don't miss the opportunity to meet them in Budapest, and enjoy the food, the wine and the spas during the advent season.
On the 2nd day we will be presenting four dance shows: 1.7 by Zsuzsa Rózsavölgyi is a brave solo piece on female roles today, on motherhood and abortion. In Duel by bodylotion co-dance we examine the cultural and philosophical roots of duelling, look for signs of it in today's communication, followed by the monochrome dance solo, Dark Horse by Zoltán Nagy. We will end the evening with the new piece by Hodworks, titled Solos, an exhibition of naked spirits.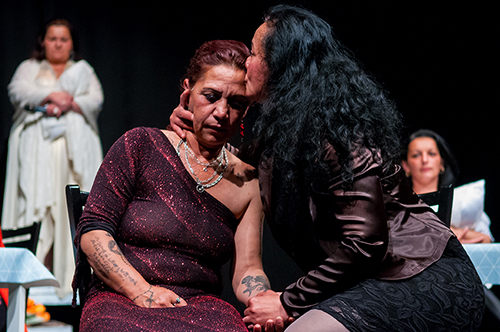 Long Live Regina! photo: Gabriella Csoszó
The theatre programme will be as dense as the dance route starting with a theatrical board-game Addressless by STEREO AKT and Lifeboat Unit. The Giant's Embrace by the two leading Hungarian professionals of theatre in education is a playful game both for children and adults. The documentary/auto-ethnographic theatre performance Long live Regina! by Self-theatre/HeartVoices is based on personal experiences and stories of Roma women about the way they are treated in healthcare and social service institutions. Parental Ctrl by Groundfloor Group applies a unique, fresh language to talk about generation and identity. In the end of the day dollardaddy's Chekhov moulds the stories and characters of four Chekhov pieces into a new piece that balances on the verge of fiction and reality.
As for the professional and off programmes, you can listen to a discussion about theatre and society in the morning with international speakers, or follow the dance off programme to Artus Studio. In the afternoon we take you to Inspiral Circus Centre, one of the most interesting and ambitious independent newcircus initiatives.
Please follow our facebook page for more information about the artists, performances and events at dunaPart4.
We hope to see you in Budapest!
Best wishes,
the Organizers
To get our regular newsletter, please, subscribe here!